Since Fanfiction.net bumped music group stories off. Here you will find my stories.
3/22/04
Sorry about the long time no update. i don't know if anyone is interested anymore so please either review or email me to let me know you are still reading! There is ANOTHER NEW CHAP For RTF FOR YOU! CHECK IT OUT!
Also I added a links page for other fan fic sites...want me to add you? Just email me with your site name and addy.
PLEASE post on the message boards or guestbook if you are reading my stories so i can know how many people are reading my stuff! thanks!
NOTE: No reviews... No story!!!
9/13/03
I WON AN AWARD FOR BEST GROUP FROM THE "DREAM AWARDS"!!! THANKS TO ALL THOSE WHO VOTED! AND KEEP READING!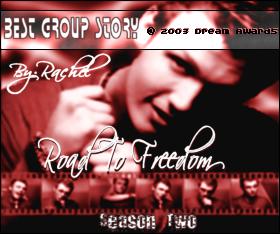 Here are my other Sites PLEASE take a look at them. thanks!


Back II Back Unoffical Street Team
I am selling some extra stuff I have. Check it out!